ProKure®: Chlorine Dioxide Disinfection System
Disinfection & Sanitation
(Non-porous) Surface Cleaning
Deodorization & Odour Control
Mold Remediation & Mildew Removal
Liquid Deodorizer, Disinfectant, Fungicide and General-Purpose Antimicrobial
Chlorine Dioxide (ClO2) Liquid is a multi-purpose, versatile product that can be used to combat a multitude of germ and odor related challenges. Eliminate Pathogens & Odors on Surfaces with Minimal Contact Time.
While we commonly describe ClO2 as a safe, effective, hospital-type solution for disinfecting and deodorizing hard, non-porous surfaces, it's important to know that ClO2 Liquid can do much more. In fact, in addition to being a powerful Disinfectant and Deodorizer, it is EPA Registered as a Sanitizer, Tuberculocide, Virucide, Fungicide, Algaecide, and Slimicide (EPA Reg# 87508-3-89334).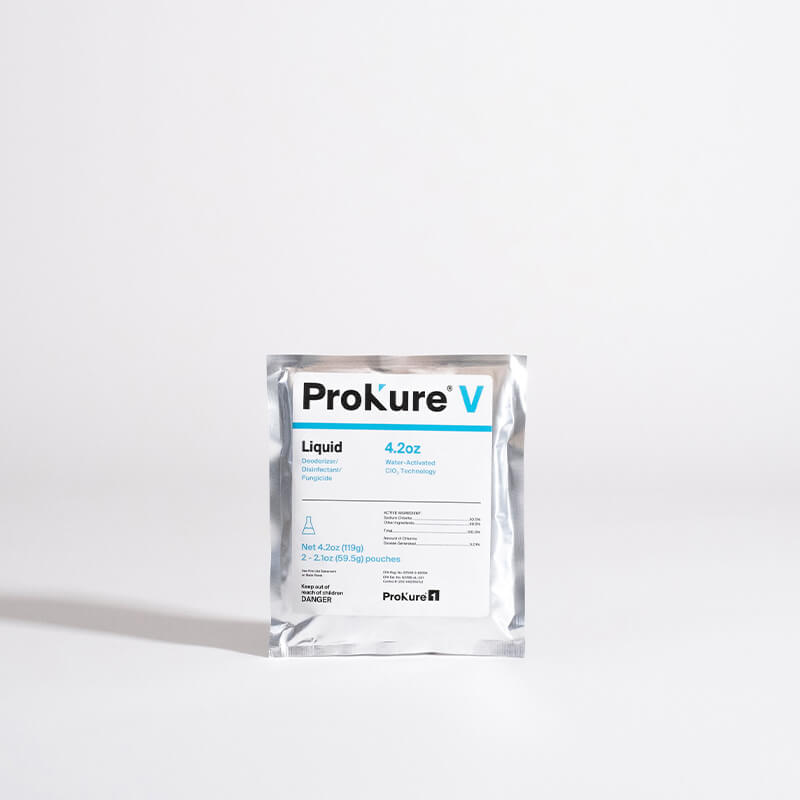 Highly effective EPA-registered hospital-type solution that has a wide range of "kill" claims
MRSA – Meticillin-resistant S. aureus
Staph – Staphylococcus aureus
Pseudomonas aeruginosa
Listeria – Listeria monocytogenes
Athlete's foot – Trichophyton mntagrophytes
Vancomycin-resistant Enterococcus faecalis
Salmonella – Salmonella enteric
Tuberculosis – Mycobacterium bovis
Candida Albicans
Human Immunodefiency Virus Type 1
Hepatitis A
Herpes Simplex-2
Rhinovirus type 37
Influenza -A virus
Coronavirus
Poliovirus -1
Feline Calicivirus
Rotavirus
Canine Parvovirus
Adenovirus type 5
Vaccinia Virus
Norovirus
S. aureus
Salmonella typhimurium
Klebsiella pneumonia
E Coli
Listeria monocytogenes
Fusarium Solani
Botrytis SP
Penicillium digitatum
blank
Additional Information
ProKure® V removes bacteria, pathogens and viruses, like MRSA, Pseudomonas, Listeria, Bovis, Salmonella, Staph and more! (See the EPA label for the full list of claims. Also on the EPA List N: Approved for use against SARS-CoV-2.)
ProKure® V is formulated for tackling disinfection, sanitation and deodorization jobs in public facilities such as hospitals, veterinary clinics, schools, commercial & residential buildings – all while being Dubai Municipality Certified.
Composition
Ships dry in formula packets
Inside the formula packets are white pouches that are water activated to create ClO2 liquid
Can be sprayed, wiped or mopped on all hard, non-porous surfaces – leaves no residue
Features & Benefits
AREAS OF USE
Hotels
Office Buildings
Retail
Government Buildings
Hospitals
Schools / Universities
Residential Homes
Large Commercial Structures
Veterinary Clinics
USES
General / Floor Disinfection
Hard Surface Disinfection
HVAC Disinfection
Equipment Disinfection
Mold And Mildew Removal
High-Touch Area Disinfection
OTHER BENEFITS
ProKure V liquid can be used in any space and on any surface
Hospital type disinfection
Kills SARS-CoV 2 in 30 Seconds (99.99% effectiveness)
Log 5 efficacy rate (Dubai Municipality Certified)
Remove odours from any type of space
Improve Indoor Air Quality
Remediate mold and eliminate health hazards
Leaves no residue
Easy to use
Environmentally friendly
Savings
Our highly-effective products are sold in dry formula pouches, requiring tap water to activate. By design, this saves you from the cost, energy, and waste tied to ready-to-use products in single-use plastic containers.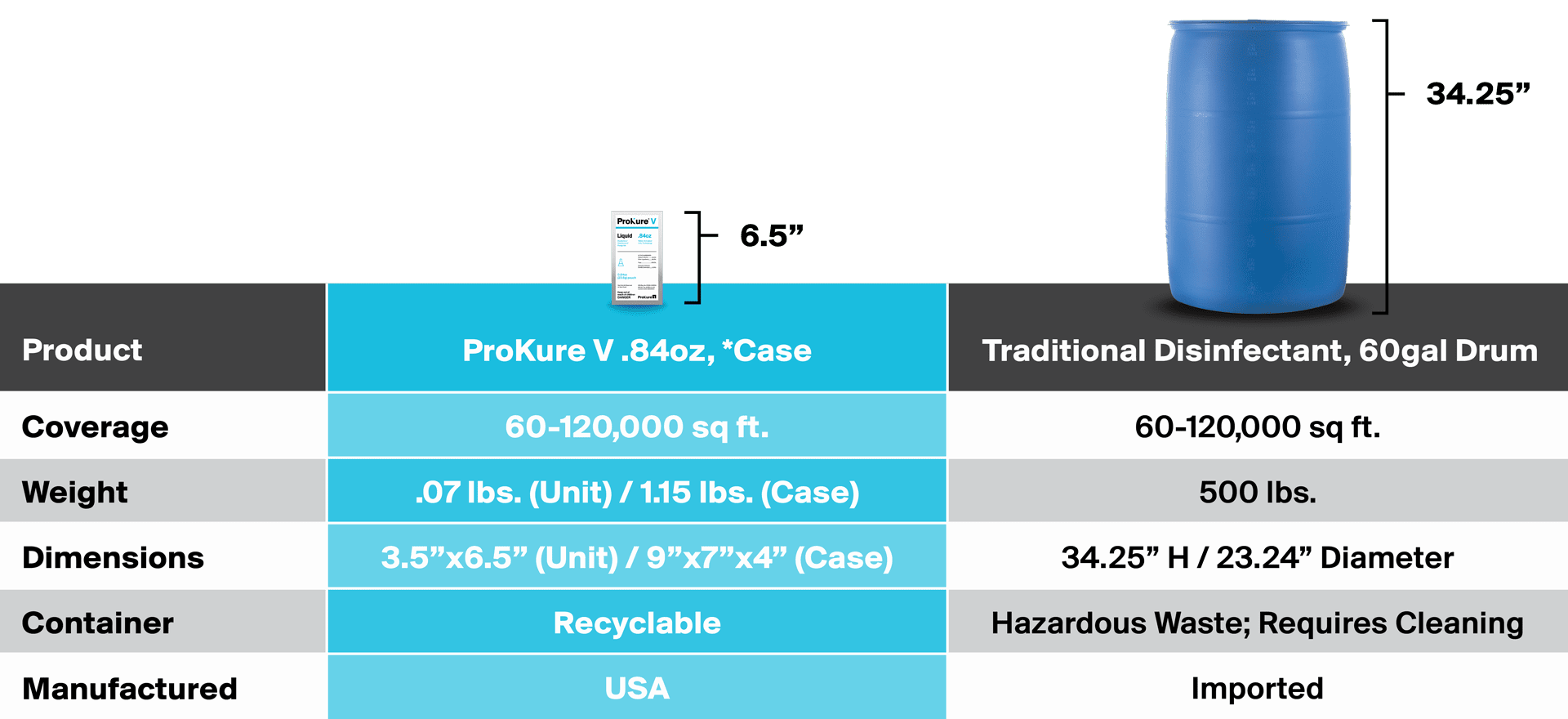 Step 1: Tear open the foil package and remove the white inner pouches. DO NOT OPEN WHITE INNER POUCH.
Step 2: Add the pouches to an opaque (not clear) ProKure® container filled with five gallons of water.
Step 3: Agitate for one minute at 15-minute intervals until full activation at one hour.
Step 4: Use stored formula within 15 days of activation.
For more information, call us or send a message.