Eco BioSurfactant Plus
Multi-surface Enzymatic Cleaner
Hard Surface & Floor Cleaning
Dust, Dirt & Biofilm Removal
HVAC Coil & Duct Cleaning
Eco BioSurfactant Plus is an ideal solution and easy to use for everyday cleaning of hard surfaces, both by soft services and hard services cleaning staff. Registered with Dubai Municipality, Eco BioSurfactant Plus helps cleaning professionals ensure that buildings are safe for their occupants and free of unwanted microbes and surface fouling.
Used in combination with a low pressure mobile foamer, Eco BioSurfactant Plus is very easy to use in your daily cleaning and HVAC maintenance. When applied during the cleaning of your HVAC coils, Eco BioSurfactant Plus effectively removes organic fouling and biofilm that resides deep inside the coils of your AC units. Your cleaning and engineering professionals do not need to use Protective Personal Equipment (PPE) when working with Eco BioSurfactant Plus.
blank
Additional Information
You can expect clear and demonstrable results, such as decreasing water use while cleaning and increasing eco-friendly environments. For HVAC cleaning specifically, you will achieve a reduction in energy consumption and your CO2 footprint, whilst effectively improving Indoor Air Quality (IAQ).
Composition
Multi-Purpose Enzymatic Surface Cleaner
Non-Toxic
Non-Corrosive
Odorless
pH Neutral
Biodegradable & Eco-Friendly
Dubai Municipality Registered (Montaji)
Eco BioSurfactant Plus Ships In Boxes of 10 pouches (total content of 1 box is 5 Liters)
Delivery across the GCC
Features & Benefits
AREAS OF USE
Hotels
Office Buildings
Retail
Government Buildings
Hospitals
Schools / Universities
Residential Homes
Large Commercial Structures
USES
General / Floor Cleaning
Hard Surface Cleaning
HVAC Cleaning
Equipment Cleaning
Mold And Mildew Removal
OTHER BENEFITS
Easy to dilute in tap water
Easy to apply
Can be used to foam, mop or wipe hard surfaces
Leaves no residue
For everyday use, no Personal Protective Equipment (PPE) required
The Benefits We Know You Value
Improvement in Indoor Air Quality (IAQ)
Decrease in Volatile Organic Compounds (VOC's)
Clean surfaces and spaces
Decrease in electricity usage
Decrease in water consumption
Increase HVAC unit performance and efficiencies
Contributes to decreasing the CO2 footprint
Increase in asset life
Removes Dust, Sand & Organic Fouling
Breaks Down & Removes Biofilm
Removes Build-Up in HVAC Systems
Follow the use instructions on the product label to easily dilute the recommended ratio of Eco BioSurfactant Plus with normal tap water.
The BioSurfactant is very effectively soluble with water and ships in pouches of 500 mL liquid each, allowing you to exactly create the amount you need for your specific job. The pouches with Eco BioSurfactant Plus can be stored up-to 1 year in a cool (room temperature) and dark area.
Recommended use in combination with (mobile) foaming equipment.
Cleaning Bundles
For Fan Coil Unit (FCU) Cleaning or Split A/C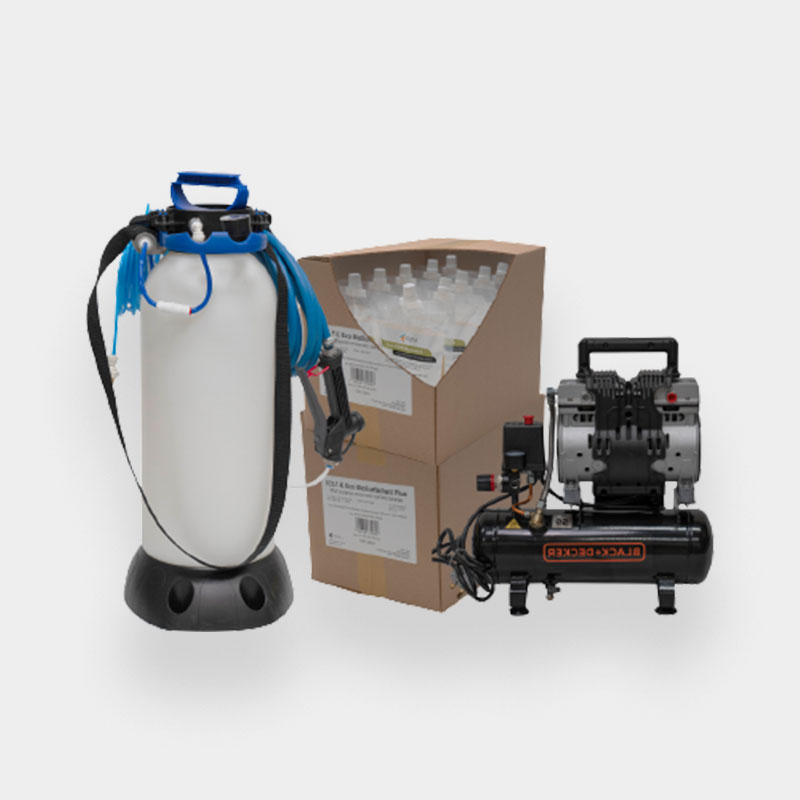 Items shown:
DEMA FOAM iT F100-E
Eco BioSurfactant Plus
Black & Decker Silent Air Compressor (2Hp)
Cleaning Bundles
For Air Handling Unit (AHU) Cleaning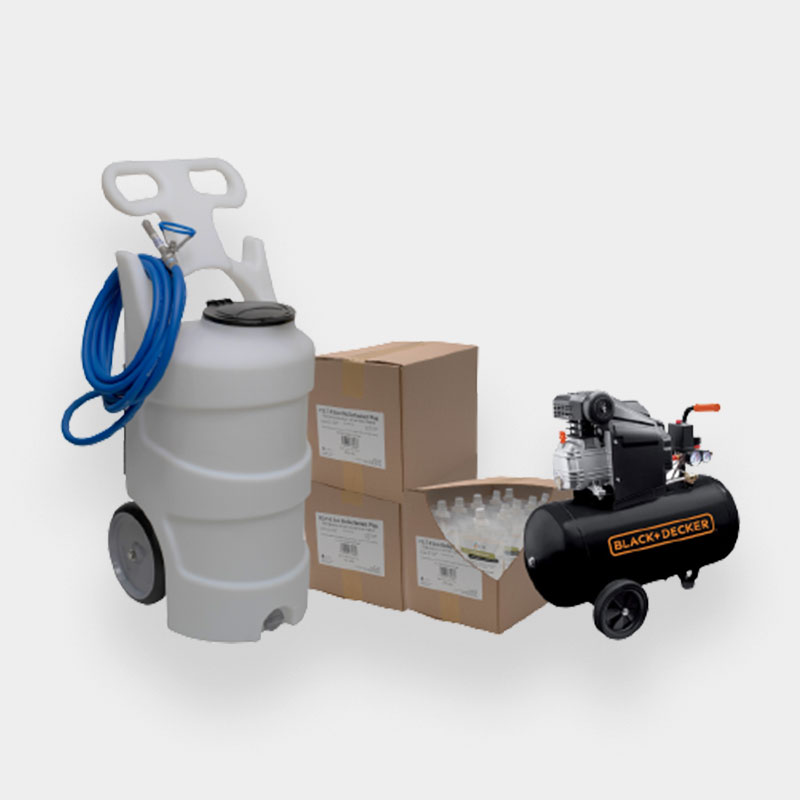 Items shown:
DEMA FOAM-iT 10N-E
Eco BioSurfactant Plus
Black & Decker Air Compressor (2Hp)
For more information, call us or send a message.