ProKure® V Liquid Disinfectant and Deodorizer
ProKure® V is an EPA-registered, liquid disinfectant/virucide/deodorizer formulated for hospital use that ships dry in formula packets. Inside the formula packets are white pouches that are water activated to create ClO2 liquid, that can be sprayed, wiped or mopped on all hard, non-porous surfaces.
Liquid formula packet (ships dry)
EPA-registered hospital-type disinfectant and deodorizer
EPA List N: Approved for use against SARS-CoV-2
Applied by sprayer, mop, or sponge (wipe); Leaves no residue
Made in the USA




All prices are excluding local taxes, duty and shipping costs.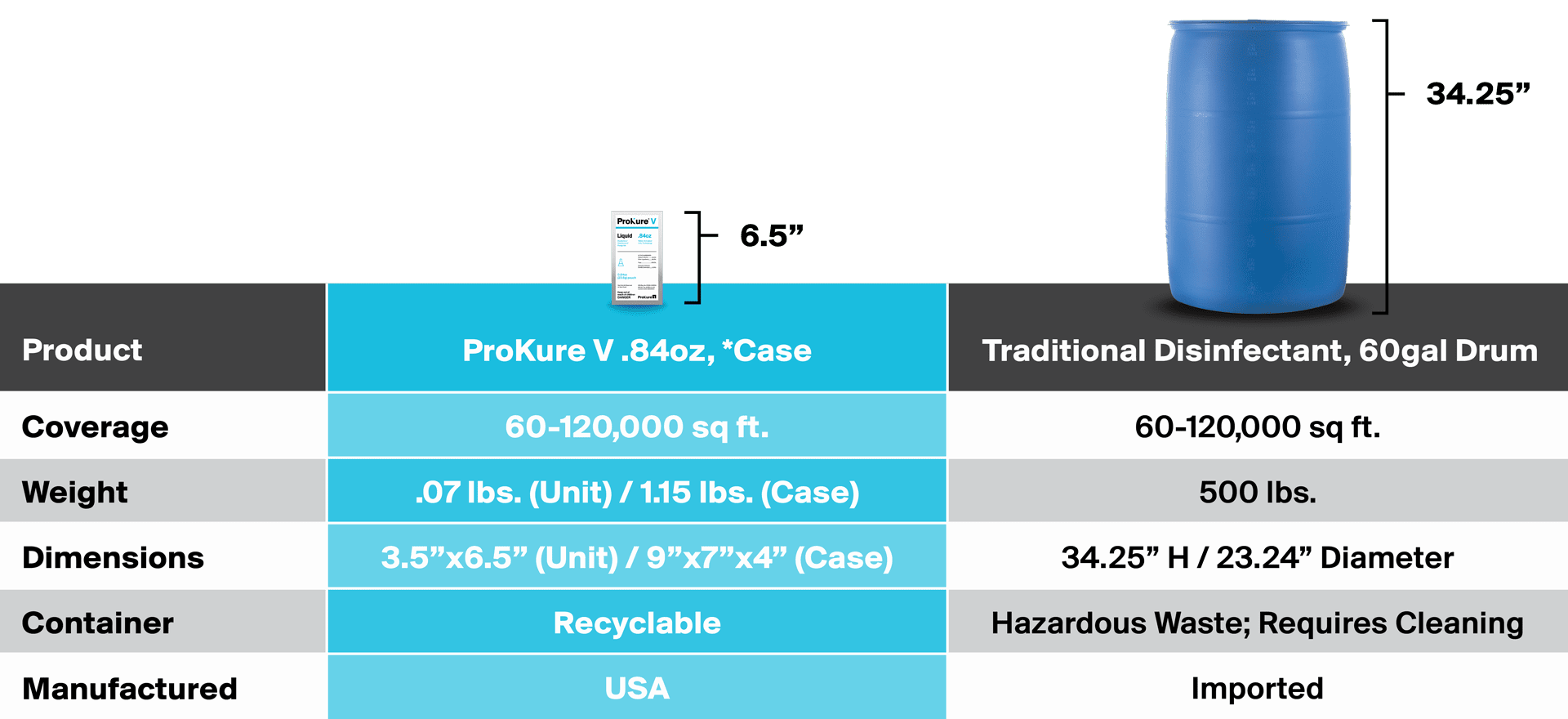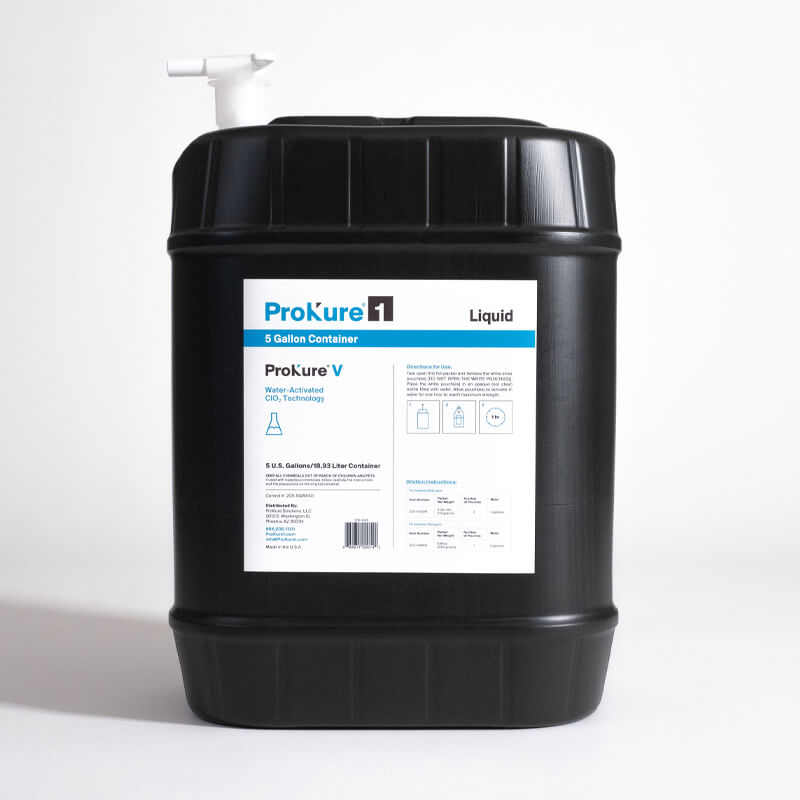 Step 1:
Tear open the foil package and remove the white inner pouches. DO NOT OPEN WHITE INNER POUCH.
Step 2:
Add the pouches to an opaque (not clear) ProKure
®
container filled with five gallons of water.
Step 3:
Agitate for one minute at 15-minute intervals until full activation at one hour.
Step 4:
Use stored formula within 15 days of activation.
Disinfectant & Deodorizer
ProKure® V is an EPA-registered, hospital-grade disinfectant and heavy-duty odor eliminator. It is used to create ClO2 liquid, using only tap water to activate. Once activated, the liquid can be applied by sprayer, mop or microfiber cloth.
This effective formula will kill bacteria, viruses*, mold, mildew and odor-causing bacteria and is perfect for eliminating your toughest odors at their source.
See product label for specific claims.
There is no complex chemical recipe for ProKure® products. We are a vehicle for Chlorine Dioxide (ClO2), a chemical well known for its effective properties in destroying pathogens responsible for disease, contamination and odor—all while leaving no residue or fragrance. This versatile compound has been used to purify drinking water across the globe, control outbreaks of infectious diseases, eliminate heavy-duty odors, and much more. ProKure® has harnessed the efficacy and convenience of ClO2 into dry, water-activated pouches for the restoration professional working on disinfection and deodorization jobs. See product labels for specific claims. ProKure® V, our liquid ClO2 line, is EPA-registered and on the EPA's List N—which includes products that meet the criteria for use against SARS-CoV-2, the virus responsible for COVID-19.
Our highly-effective products are sold in dry formula pouches, requiring tap water to activate. By design, this saves you from the cost, energy, and waste tied to ready-to-use products in single-use plastic containers.
Simply select the ProKure® V packet sizes you need and follow its "just add water" instructions. When it's time to make more, ProKure® empowers you to reuse empty containers.
Never before has it been easier to get products to the job site and to make your practice more sustainable.
ProKure V Use Case By Industry
Expert Sanitation, Disinfection & Deodorization Jobs perfect for:
Hospitality Cleaning Professionals
Lobby, Guest Room, Bathroom and Restaurant Sanitation & Deodorization
Pantry / Kitchenette / Garbage Room Deodorization
Mold Remediation Experts
Mold & Mildew Abatement
Odor & Smoke Damage Restoration
Water Damage Restoration
Facilities Management
Public Area & Building Disinfection / Sanitization
Deodorization of Pantry / Garbage Collection Points
Water Tank Cleaning
Duct Disinfection
Hospitals & Clinics
Disinfection & Sanitation of Patient Rooms, Operating Theatres, Bathrooms
Deodorization of Pantries, Kitchenettes & Waste Collection Areas
Mold Clean
How to Activate ProKure® V
Watch Video: How to Activate ProKure® V
Watch Video: How to Use ProKure® V
PLEASE SEE EPA-REGISTERED LABEL FOR PRODUCT INSTRUCTIONS. IT IS A VIOLATION OF FEDERAL LAW TO USE THIS PRODUCT IN A MANNER INCONSISTENT WITH THE LABELING.
Not what you're looking for?
Try these: